GETTING THE INJURED EMPLOYEE PREPARED FOR A SAFE, SUSTAINED RE-ENTRY INTO THE WORKFORCE
---
JACO Rehab is proud to offer treatment through worker's compensation with progression into work conditioning as necessary.
Our new functional work conditioning rehabilitation model takes place over 3 weeks with an opportunity to extend by an additional 3 weeks depending upon outcomes.
CLICK HERE FOR THE REFERRAL FORM
Worker's Compensation at JACO Rehab
---
JACO Rehab has a strong track record working with physicians and nurse case managers to get employees back to work.
Our physical therapists are excellent at dosing functional activities throughout the rehab process to reach specific return-to-work goals without limitation. 
These goals always incorporate:
tolerance to all work-related tasks

performing complex tasks under various work-related conditions

resilience with repetitive lifting, carrying, reaching, pulling, pushing, etc.

pain-free weight manipulation to meet lifting, pushing, and pulling requirements for safe return-to-work
Now, JACO has launched a functional work conditioning program as a progression of worker's compensation rehabilitation. It is available for any worker whose treatment team recommends it.
Work Conditioning: Structured for Success
---
JACO Rehab's goal is to transition the worker from initial rehabilitation needs to a job-specific work conditioning program as quickly as possible through one-on-one care.
We have developed an individualized, patient-centric work conditioning program that ensures safe and sustained return-to-work. 
Our Triple 3 Work Conditioning Program is designed to:
Restore the injured employee's physical capacity and function for return-to-work

Emphasize prevention of future injury

Teach correct body mechanics with safe movement patterns at any weight requirement
Workers who fulfill our program will restore the motivation and confidence needed to return to work for the long-run.
About the Triple 3 Work Conditioning Program
---
JACO's Triple 3 Work Conditioning Program is performed 3x per week up to 3 hours per day over a 3-week period. There are opportunities to extend the program if deemed appropriate.
A high percentage of those entering into this program return to work with full duties. Take a look!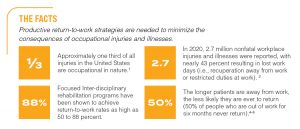 During the program, JACO's therapists focus on building the worker's…
strength and conditioning to meet specific requirements

cardiovascular endurance to decrease early fatigue

job-specific exertion tolerance to ensure readiness for return-to-work
… using customized workout circuits that simulate work demands. 
Initially, activities start on alternating days to build tolerance. The patient's schedule is then progressed to consecutive days to mimic performance expectations and continue improving work tolerance.
Participate in our Worker's Compensation and Work Conditioning Programs
---
If you or a patient would like to take advantage of our one-on-one worker's compensation treatment sessions or the Triple 3 Work Conditioning Program, reach out to our offices or ask your physician for a referral to JACO Rehab.
JACO has 4 convenient locations around south and central Oahu, including Honolulu, Waikele, Kapolei, and Mililani. 
All are accepting new patients under worker's compensation and work conditioning. Contact us to learn how to schedule a new appointment.
---
Our References
1. Rubens AJ, Oleckno WA, Papaeliou L. Establishing guidelines for the identification of occupational injuries: a systematic appraisal. J Occup Environ Med. 1995;37:151-9.
2. United States Department of Labor, Bureau of Labor Statistics. Employer-Reported Workplace Injuries and Illnesses, 2020. https://www.bls.gov/news.release/osh.nr0.htm
3. National Safety Council. Accident facts. Itasca, Ill.: National Safety Council, 1997.
4. Bendix AF, Bendix T, Ostenfeld S, Bush E, Andersen null. Active treatment programs for patients with chronic low back pain: a prospective, randomized, observer-blinded study. Eur Spine J. 1995;4:148-52
5. Cleary L, Thombs DL, Daniel EL, Zimmerli WH. Occupational low back disability: effective strategies for reducing lost work time. AAOHN J. 1995;43:87-94.
6. Niemeyer LO, Jacobs K, Reynolds-Lynch K, Betten-court C, Lang S. Work hardening: past, present, and future—the work programs special interest section national work-hardening outcome study. Am J Occup Ther. 1994;48:327-39