stay connected with your PT
We are excited to announce that we are offering an additional service to our patients:
TELEHEALTH!
You can still complete your therapy even if you are unable to come into the clinic. We will use video so you and your PT can see and hear each other during your digital individualized physical therapy visit. We will help you keep up with your therapy from home, and treat you the same way we do in the clinic, minus the hands-on care! All you need is a device with internet connection and a camera, (i.e., smartphone, tablet, or laptop).
The advantage of Telehealth is:
You don't need to leave the house to get the care you need
The convenience of being in your own home while receiving the physical therapy you need
It will help you to perform your exercises correctly
We will be able to progress your exercises to get you to the next level
It will help you to stay motivated to keep up with your therapy from home
You don't have to worry about losing the progress you made when you were coming in for treatment
We will be able to reach the functional goals we set for you
Please call us at (808) 381-8947 to find out if your insurance is covering Telehealth services or to inquire about our self-pay rates!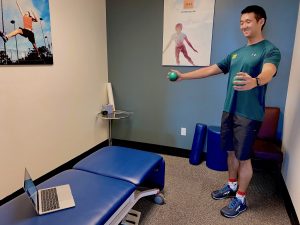 .